Birth of the silicone clasp pouch "POCHI"
Original brand of silicone made items p+g design, is expanding sales all over the world. "POCHI" the worldwide first developed silicone made clasp pouch, designed, developed, and sold by PG Design Inc. (Old name: GMC Toy's Field Inc.). We would like to introduce some episodes how it was developed.
Trigger of the idea

About 10 years ago, there were many colorful kitchen tools made by silicone was displayed in many variety goods stores. At that time, silicone material which has good color development, water resistance, heat/cool resistance, appeared very attractive to people. In June 2008, being affected to the trend, we held an internal product planning meeting with the theme "silicone variety goods", and the idea of silicone clasp pouch came up.
Development of Silicone clasp pouch
After having support from all participants in the meeting, we started the project of silicone clasp pouch. Our designer talks about the feeling at that time; "The reason why I came up to develop a clasp pouch with silicone, was because I realized the usefulness and cuteness of clasp pouch which has been around for a long time. In Japan, as there are stores specialized in clasp pouches, and very popular among women, I thought it would become a very popular item if we could develop them. The image inside my head appeared very nice and above all, I strongly thought I would like to have one. After deciding the detail size and shape, we started the development. However, although I had a detailed image in my head, it was a very hard work to make into real."
▲First sample
The memorable first sample was too far from the one we had imagined. There were no point of the clasp and could not close as it had no metal fitting. In order to make closer to the designer's image, we started modification to improve.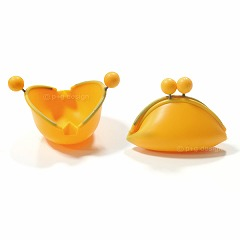 ▲2nd sample
The 2nd sample was made by inserting a wire inside forcibly at the molding process. We could barely close, but could not work as a clasp, and moreover, it was not cute enough. However, the fact that we could insert the wire opened a new step to us.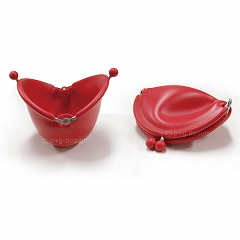 ▲3rd sample
By changing the mold, we succeeded inserting an original metal fitting! Compared to the 1st and 2nd samples, the 3rd sample was becoming closer to our image, but because it was being molded by opened shape, it will pucker when being closed.
▲4th sample (pink) and 5th sample(black)

Our goal was to maintain the round cute shape when closed. Believing the possibilities that will become more cutely, we went through many attempts. To prevent distortion when closed, we changed the mold again. The pucker problem improved and at the time when we got to the 5th sample, it became almost the same shape as the current POCHI. It had already passed a year since we started the project, modified the mold for 4 times until POCHI complete. Despite of the situation that there were no examples to refer, getting strong cooperation from the factory, we completed the silicone clasp pouch POCHI.
Now, our items are sold worldwide such as famous museum shop MoMA Design store in New York, as well as many variety stores and specialty stores in Japan.
GOOD DESIGN 2013・2014
| | |
| --- | --- |
| POCHI series which has 9 color variation, awarded GOOD DESIGN 2013 and 2014 with the comment "The pop color and unique touch make the most of good points of silicone, and make us feel delightful. They are designed considering the user and very fun product in which we get good impression by the point of easy open-close function, resistance to dirt, etc." We will continue to put our greatest effort to create items loved by people as ever. | |