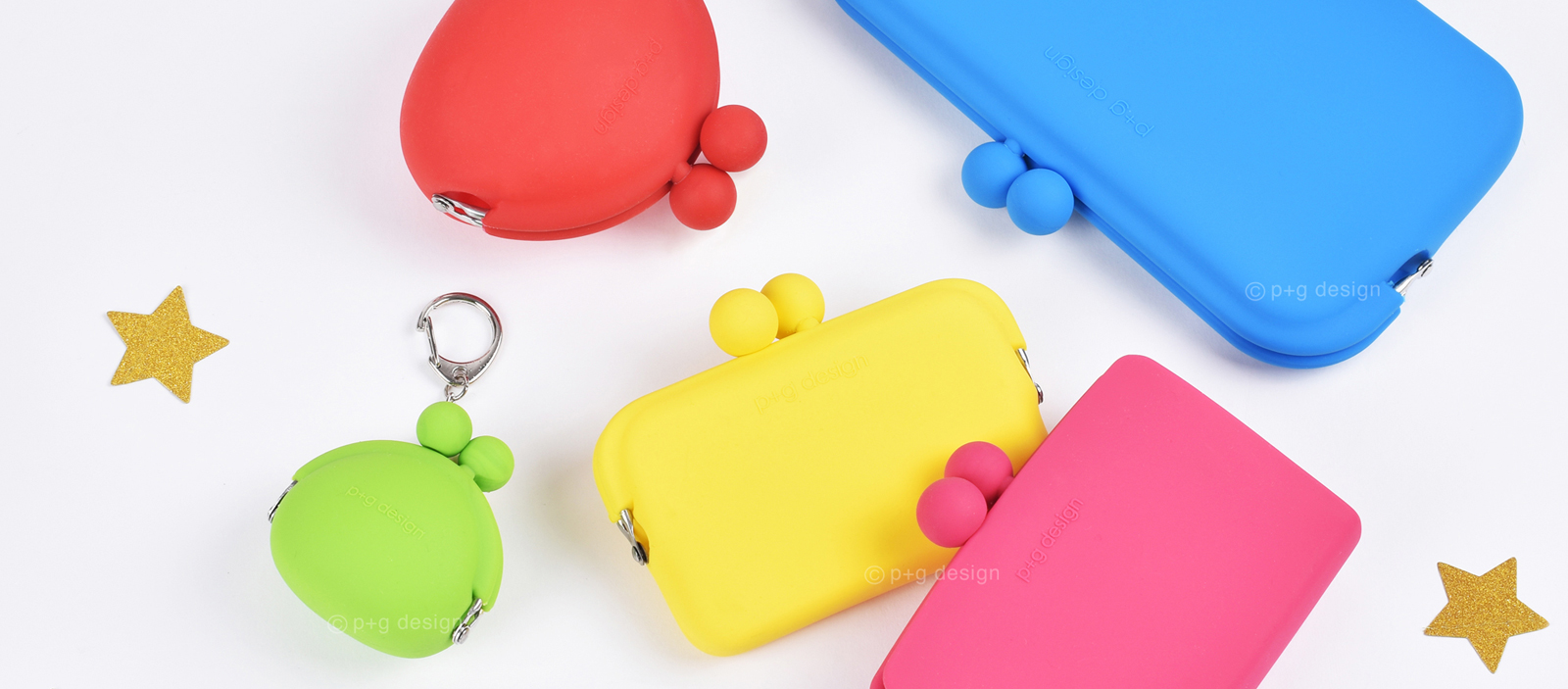 p+g design has reached its 10th anniversary since the brand was launched in 2008.

Thank you all for your hospital patronage to our p+g design silicone item. We will continue to develop items which makes people feel happy and fun with the concept "Just best for a gift".
p+g design 10th Anniversary pop up store information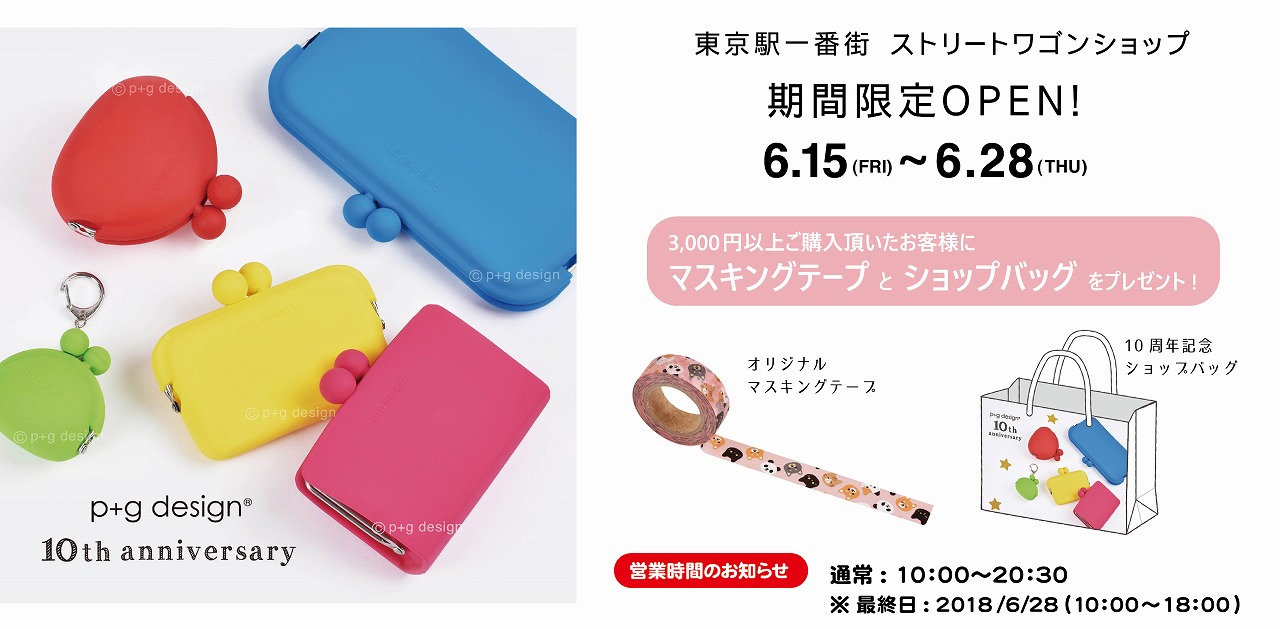 東京駅一番街に期間限定でストリートワゴンショップがオープン!
3,000円以上のご購入でマスキングテープとショップバッグをプレゼントします!
10th Anniversary present campaign

ブランド誕生10周年記念!
p+g design公式Twitterアカウント(@gmctoysfield)をフォロー&対象ツイートをリツイートで限定カラーのPOCHIバッグを抽選で5名様にプレゼント!
p+g design 10th Anniversary History
2008

Started design/development for silicone items brand "p+g design"

 
2009

・Started selling "CO-IN" as our first silicone item
・Started selling the clasp type pouch "POCHI"
・Joined the International Premium Incentive Show for the first time
"POCHI" received the Semi-Grand Prize at the SP tool contest
2010

・Opened an EC website "@SILICONE!" specialized in silicone items
・Started to sell at the museum shop NY MoMA Design Store
・Joined NYIGF(current NY NOW) for the first time
・Expanded sales of "p+g design" items to USA, Philippines, Taiwan, France, Denmark, Singapore
2011

・Joined the Tokyo International Gift Show Spring for the first time

 
2012

・Started selling clasp type pouch with ears "mimi POCHI Friends" series
・Joined International Stationary & Office Products Fair(ISOT) for the first time
・Opened a limited pop up store at SEIBU Ikebukuro department store for the first time
・Started selling iPhone case with nose shaped finger holder "HANA"
2013

・p+g design show room opened at 6th floor, same building as our office
・Renewed our silicone clasp type pouches to more attractive and user-friendly.
・POCHI, DO-MO, SEPA-POCHI awarded GOOD DESIGN 2013
2014

・p+g design official shop(for a limited term until 2017) opened in Kuramae, Tokyo(where our company located)
・Started selling 3D clasp type pouch "3D POCHI Friends" series
・Clasp type items awarded GOOD Design 2014
・p+g design was published in the household goods/traditional crafts page on official web site of Ministry of Economy Trade and Industry.
2015

・Held a private view for the first time at our p+g design show room
・Started selling collaborated items with our popular illustrators, Nishiwaki Tadashi and error403
・Participated as a lifestyle goods manufacturer for the first time in an event called "Monomachi 7th" which exposes to the fascination of the "town" and "craftsmanship" in Kachikura area(Okachimachi and Kuramae, Located in Tokyo)

 
2016

・Participated in "Monomachi 8th"
・Opened a limited pop up store at the commercial facility in Maihama, Chiba

 
2017

・POCHI was published in a high school text book for art (from Mitsumura Tosho Publishing Co., Ltd.)
2018

・Changed company name to PG Design Inc., same as the brand name "p+g design"
・p+g design 10th Anniversary

 
Message from Ikuyo Ejiri(Designer)
Thank you for your patronage to our p+g design items. "POCHI" was the first item which we started to develop as p+g design. When I was struck upon the idea of silicone clasp type pouch, I was very confident that it would become very cute and I'd love to buy them! However, I didn't think at that time that it would be loved from many people for such a long term. I still become excited when people give us their impression "cute!", or find them being sold at a store, or saw people using our items casually.
We will continuously attempt to be loved from everyone as a brand of silicone clasp type items hereafter.

Message from Ikuyo Ejiri
COMING SOON
| | |
| --- | --- |
| | COMING SOON |